Will Went From Indigestion, Constipation and Incredible Pain to Freedom!
Will came to us with a pretty sad story. He couldn't have a job, he was losing the love of his life and he felt the feeling that many feel, "I'm going to die."
His pain in his stomach was a constant reminder that he wasn't ok.
He had lost 50 lbs in 3 weeks. He'd done CT scans, x-rays, endoscopies and NO ANSWERS. Along with multiple trips to the ER he was ready to give up.
He had to quit his job because of this issue. He would not go to the bathroom for 3 days at a time, his stomach was full of pain and he'd spent over $25,000 trying to fix the problem.
By 8 weeks this was right from Will's personal food journal: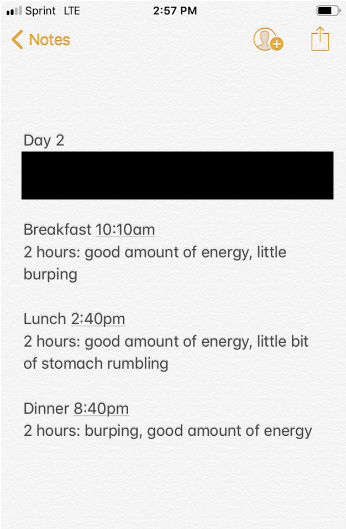 He finally was able to get rid of the stomach pain, the indigestion, and the constipation!
His life was opened up. By the end of working with us he was able to apply for jobs again! It had been over a year and a half without work and this was so exciting for him.
He felt amazing and he said it, "I feel so good and like a completely different person. Thank you so much for helping me work through the challenges in my life that were causing my symptoms. You helped me work through so much with my family and my own anxiety."
Not only did Will reverse his symptoms but he healed years of emotional pain and baggage in his life by using our methods involving the gut-brain connection. That changed everything for him and his health.
Can you relate with Will's battle with IBS-C and his years of searching for relief from his symptoms?
The safest and most effective way to put your IBS symptoms into remission permanently is to use a whole body approach that actually address all the root causes involved in your IBS symptoms.
That's what we're all about.  Getting people safe, effective, and lasting results.
Our methods are:
Clear and Concise
Reliable
Proven by Scientific Research via Peer-Reviewed Science & Medical Journals
A Whole Body Approach
Effective & Get Lasting Results - No Re-occuring symptoms  (See Client Success Stories)
Schedule a FREE 45 minute breakthrough session with my team where we'll get you clear on how to finally overcome and breakthrough IBS and IBD problems.
But it's not for everyone...
Here's who I can help:
You must be willing to take 100% responsibility for your health.  You are not a "victim" to this disease.
You must be a person that is coachable and open to a totally different method than what you've learned or know.  If you think you've got it all figured out then this is not for you.
You have to be completely sick and tired of your current processes.  Whether that be a doctor or your own supplementation method.
You have to be hungry to fix this problem NOW.  I mean really committed.  Not to fix it next week, next year or next decade but now.
And, you have to be open to investing in yourself and your health.
If you're tired of being terrified that you might miss the bathroom, the toxins building up in your colon, the overwhelming emotions, the panic attacks that completely consume you and not being the person you need to be for the people depending deeply on you, and you're ready to get real results, then I'm making the time to show you how it's done.