Connie Struggled With A Mix Of Diarrhea And Constipation For Decades
Connie came to us with a 25 year history of IBS, oscillating between diarrhea and constipation.
She would go upwards of 3 days with constipation and then suddenly have violent diarrhea.
This would last for upwards of an entire day and was completely debilitating.
As a Pharmacist, she was quite knowledgable in the arena of human biology and knew that her condition was threatening major disease in her life.
After all, her brothers and sisters all had digestive issues like her. Also, her dad had passed away from Colon Cancer at an early age.
The pain of the idea of that happening to her was too much to bear. So, she decided that this struggle with IBS was a must to fix so she could be there for her children.
After the first week of utilizing our methods, her diarrhea and constipation STOPPED. This was unlike anything she had ever experienced. In fact, she didn't even share her exciting results with us for a week or two for fear she would 'jinx' her progress.
The good news for her is, it wasn't a jinx. This is now her new normal. She not only has control of her health and how she feels but she can really be there for her husband and her son and not just try to 'get through the day'.
She hasn't had issues since she worked with us.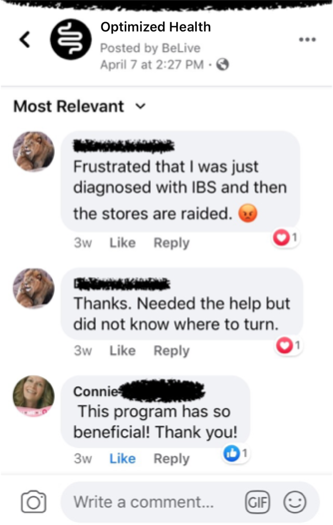 A huge thing for her was our work with the gut-brain connection. She said that that was the one thing that completely changed her life. She knew her emotions played a part in causing her IBS but didn't know why or how she should work through them.
She'll never be the same again. Her life has been changed forever and the weight off of her shoulders is unreal! She no longer feels like a burden to her family AND, most importantly, she can give her son the life she has always wanted for him now that she has her health and life back!
If you can relate with Connie and are SICK and TIRED of feeling out of control in your health due to IBS or IBD symptoms then you need to watch our free training. We give you an overview of the system Connie used to take her health and life back, once and for all.
If you are ready to:
Say goodbye to feeling frustrated and hopeless and
You are sick of wasting precious time (that you can't ever get back with those you love) on methods that don't work …
Schedule a FREE 45 minute breakthrough session with my team where we'll get you clear on how to finally overcome and breakthrough your emotional, personal and professional problems.
But it's not for everyone...
Here's who I can help:
You must be willing to take 100% responsibility for your health.  You are not a "victim" to this disease.
You must be a person that is coachable and open to a totally different method than what you've learned or know.  If you think you've got it all figured out then this is not for you.
You have to be completely sick and tired of your current processes.  Whether that be a doctor or your own supplementation method.
You have to be hungry to fix this problem NOW.  I mean really committed.  Not to fix it next week, next year or next decade but now.
And, you have to be open to investing in yourself and your health.
If you're tired of being terrified that you might miss the bathroom, the toxins building up in your colon, the overwhelming emotions, the panic attacks that completely consume you and not being the person you need to be for the people depending deeply on you, and you're ready to get real results, then I'm making the time to show you how it's done.