Brooke Went From Accident's In Grade School To Freedom
When 8 year old Brooke came to us, her IBS-D was so bad she was having accidents at school in class.
After seeing many doctors and specialists with no improvement in Brook's symptoms, her parents were at their wits end of what to do for their little girl.
Fast forward to today and she now has such vibrant and pure health that she's having regular bowel movements and able to be a kid again…
Here's a snippet directly from one of her weekly food journals (documented by her diligent mother):
A clipping of Brooke's Journal!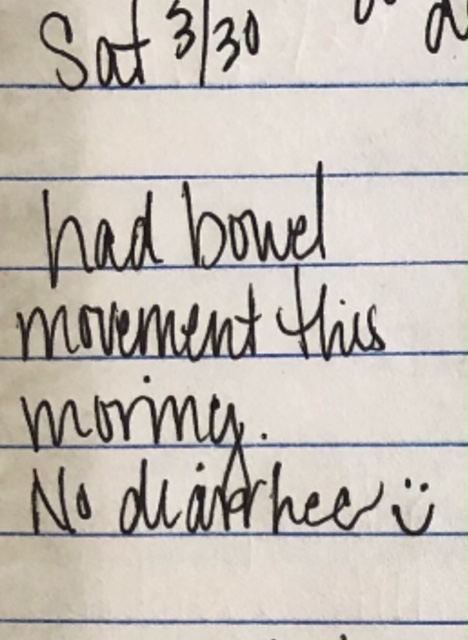 Brooke and her parents were super successful with our methods because:
1) They put Brooke's health as #1 priority and decided that RIGHT NOW was the time to take action
2) They decided to do whatever it took to stop this horrific disease.
3) They followed our plan to the point of obsession.
Hey, it wasn't easy. But having an effective plan in place and the needed support around her, made her path to freedom from these IBS-D symptoms possible.
Words can not describe the relief Brooke's parents felt when they were able to help her fix the roots of what was causing her IBS-D symptoms so she could get her childhood back. She could finally feel what it was like to be a vibrantly healthy little girl.
And because her parents had our methods, they had the tools to not only solve the root causes of what had ignited Brooke's IBS-D in the first place, but they could ensure that that little girl would be safe from ever having reoccurring issues of IBS pop up in her future.
Brooke was finally protected and safe from those symptoms ever ruining her life again.
The best part about this success story, is that it is repeatable one!
That's what we're all about.  Getting people safe, effective, and lasting results.
Our methods are:
Clear and Concise
Reliable
Proven by Scientific Research via Peer-Reviewed Science & Medical Journals
A Whole Body Approach
Effective & Get Lasting Results – No Re-occuring symptoms
Schedule a FREE 45 minute breakthrough session with my team where we'll get you clear on how to finally overcome and breakthrough constipation, diarrhea, pain, bloating and gas.
But it's not for everyone...
Here's who I can help:
You must be willing to take 100% responsibility for your health.  You are not a "victim" to this disease.
You must be a person that is coachable and open to a totally different method than what you've learned or know.  If you think you've got it all figured out then this is not for you.
You have to be completely sick and tired of your current processes.  Whether that be a doctor or your own supplementation method.
You have to be hungry to fix this problem NOW.  I mean really committed.  Not to fix it next week, next year or next decade but now.
And, you have to be open to investing in yourself and your health.
If you're tired of being terrified that you might miss the bathroom, the toxins building up in your colon, the overwhelming emotions, the panic attacks that completely consume you and not being the person you need to be for the people depending deeply on you, and you're ready to get real results, then I'm making the time to show you how it's done.